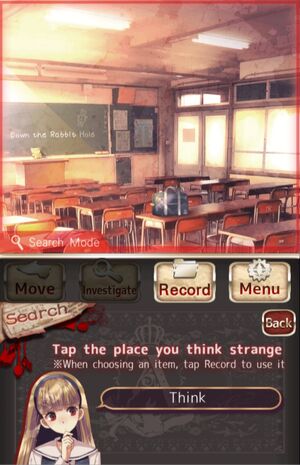 The page is about the game process.
Playable Character or Protagonist
Edit
The protagonist of the game is Alice Kanzaki. She must to solve the case of White Rabbit and prove her innocence. With it she also must to remember her friends and her life.
Mental Strength
Edit
Mental Strength is a line in top. It means how many moves or wrong answers you can do. Every time you choose wrong answer, go to another location your mental strength decreases. If it will become 0, the game will over.
Move can help you to move from one location to another. Every time you move your mental strength decreases.
Investigate and Think
Edit
Investigate can help you to find items or search the location. In that mode you also can think. You should think at every location. In thinking mode you can meet new character or new plot detail, so it is important.
Record contains all characters and items which you have or had found. It can help you when you are going to prove your innocence with some evidences. Also here you can read details about characters and items.
Community content is available under
CC-BY-SA
unless otherwise noted.